1. Piper Tights
I love riding tights rather than breeches on hot summer days, but what really caught my eye with these was the thigh pocket. It is perfect to put your phone in while riding! I ride by myself a lot, so I always like to have my phone on my body incase of an emergency. Stuffing it into the pockets of my breeches is not comfortable and I worry about it falling out! I have seen some other tights with pockets like these, but they were well over $100. Smartpak's Piper Tights retail for $49.95.
2.  Piper Breeches
I have not personally tried these, but I have heard wonderful things about them and will be ordering some soon! They seem to be the perfect middle ground between cheaper breeches and the ones that will break your bank. They come in so many different fun colors. It is hard to choose just one! They are available in original or midrise, and knee patch or fullseat. Piper Breeches retail for $79.95-$89.95.
3. Horseware Competition Jacket
Ok I am obsessed with this one. Not only is it a steal to get a quality show coat for $109.95, but it comes in gorgeous colors- including one I have never seen before! It comes in a khaki with a blush pink collar and I am dying to have it. Unfortunately, if I walked in the hunter ring with that on, the judge would take one look at me and move me to the bottom of the list haha. If you do jumpers, you should definitely check out this gorgeous coat! It also comes in traditional navy and black, as well as hunter green and maroon. I am set on getting a green or maroon coat this summer!
4. Piper Long Sleeve Show Shirt
I adore the cute print options that are available on the collar and cuffs with this shirt. There are flowers, donuts, polkadots, or little foxes to choose from. On the traditional white show shirt, you can rock this in the hunter and eq rings, without showing it off to the judge! This shirt goes for $34.95, which is way cheaper than what I have been paying for show shirts in the past. I've got to try this one!
5. Piper Short Sleeve Polo
Who doesn't need more summer appropriate shirts for schooling? At only $ 29.95, this polo is perfect to keep you looking sharp during your lessons or hacks!
6. Piper Long Sleeve Sun Shirt
I'll admit I am not religious with putting on sunscreen, even though I know it is so important! Every summer I get burnt shoulders and arms from riding in the sun, and you can't forget the awful farmer's tan! This sun shirt is powered by Coolcore fabric, which is known for its moisture wicking and cooling abilities. It provides SPF 50 to protect you from harmful UV rays. At $39.95, this is a must for the summer season.
7. Smartpak SmartMesh Fly Sheet
My horse is extremely bothered by flies. Even just a couple can make him moody. Last year, I had a really hard time with his fly sheet making him too hot. I didn't know what to do because the sheet definitely repelled better than the spray, but he was getting covered in sweat! Well I realized I didn't have a lightweight, breathable fly sheet like the SmartMesh Sheet. This sheet is made out of an entirely different material than my previous one. The mesh allows air to flow freely in and out to help keep him cool! It comes with the neck guard attachment for just $99.95. Another good alternative flysheet that is almost the exact same thing, is the Weatherbeeta ComFiTec Ripshield, also coming with the detachable neck guard for $129.95.
8. UGARD Supplement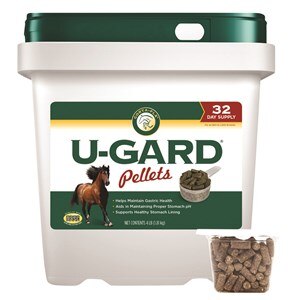 Guys, this stuff is life changing. 2 months ago, I started Z on this supplement, in addition to the Ulcerguard paste for treatment of ulcers. I have finished with the paste treatment and I have continued to keep him on the supplement weeks after. He is so much more of a happier horse! He was suffering from the bad ulcers and that made him extremely irritable in cross-ties and nippy throughout the whole tacking process. I can absolutely tell he is no longer in pain. If you would like more info on treating ulcers with UGARD and Ulcergard paste, I would be happy to share with you how I did it without going broke!
9. Roma ProTek Wither Relief Pad
I have used and loved Roma pads of different types for years. This one is a great addition to the barn by offering protection under your saddle. It is available in either front or back lift to fit the needs of your saddle and horse. It is black in color and made of foam material that doesn't absorb moisture, making it easy to keep clean! This pad retails for $29.95.
10. Smartpak Small Circles AP Saddle Pad
This one reminds me very much of my circle pad from Roma. I have found the circle pattern provides much more cushion, in my opinion. Coming in a variety of fun colors, at only $19.95, this is one you don't want to miss out on!
Happy Budgeting!
-Hannah + Z
Photo credits to SmartPak and Pixabay